---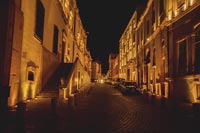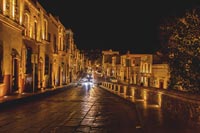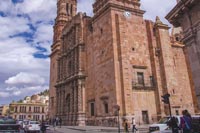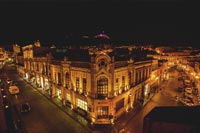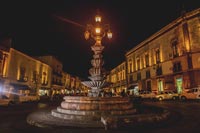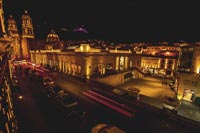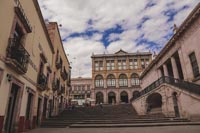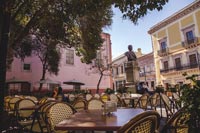 ---
Experiencia Patrimonial
Aquí el adjetivo "deslumbrante" llega a su máximo esplendor entre vivas y esplendorosas calles y callejones bordeados por impresionantes edificios entre los que destaca la Catedral. Barecitos, cafés y restaurantes mexicanos y de cocina internacional por igual. Hay música, snacks callejeros, nieve, comida popular, dulces; todo puede uno disfrutarlo en el Centro de la Ciudad, escenario de recuerdos y de experiencias para todos los sentidos que seguro habrán de perdurar por siempre.
Atesora
Caminata por las calles
Piérdete en sus callejones
Prueba un taco envenenado
Tómate un mezcal en una cantina
No pierdas detalle de las fachadas de cantera y de su herrería.
---
Lugares únicos por conocer en esta Experiencia:
Cathedral

---

This exhuberant barroque masterpiece of 18th century New Spain consists in three naves and three facades. The main one is truly outstanding. Its central altarpiece covered in 24-karat gold leaf by Javier Marín was inaugurated in 2010.

Hours: from 07:00 AM to 1:00 PM and from 5:00 PM to 8:30 PM (Daily)

No visit to Zacatecas is complete without a trip to this impressive building.

Government Palace Cultural Center

---

This 18th century building was once occupied by viceroyalty nobles in colonial Zacatecas. It became the seat of the state executive branch of government in 1834, and in 2014, a venue for art and culture. Interesting passages in Zacatecan history are depicted on the staircase mural by local artist Antonio Pintor. Hours: from 08:30 AM to 8:00 PM (daily).

Tourist information module here.

Hours: Monday-Saturday from 9:00 AM to 7:00 PM and Sundays from 9:00 AM to 6:00 PM

Rosales Arcade

---

Construction of Portal de Rosales began in 1827 on the former site of San Agustín square. It was built as a tribute to Víctor Rosales (a distinguished Zacatecan military figure of the war of independance). Today the Arcade has become a meeting place for university students wo enjoy its variety of domestic and international fast-food and desert chains.

During your stay in Zacatecas, you will more likely than not come across a book, local candy and handcraft exhibition.

Miguel Auza Piazza

---

Surrounded by majestic architecture such as the former San Agustin church, the Bishopric and old mansions adapted into shops offering local handcrafts, Plazuela Miguel Auza was inaugurated in 1908. Today it welcomes visitors with delightful restaurants, bars and sidewalk cafés.

Enjoy an evening of delicious food and great coffee in a venue that hosts various cultural events during festivals.

González Ortega Market

---

The site once served as the main square of the city in colonial days. In 1889, however, a three storey market was built there instead. A fire destroyed it in 1901, so it was rebuilt and remains much the same today. The two storey building ceased being a public market in 1982, when it was transformed into a shopping mall. Today many shops have been taken over by excellent, traditional restaurants, bars and souvenir shops.

Come buy a good bottle of wine, silver jewlery and Mexican style charrería (rodeo) accessories.

Calderón Theater

---

This is one of the most exquisite buildings in the city—a textbook example of the architecture created during the 30-year presidency of Porfirio Díaz known as the Porfiriato. Inaugurated in 1897, the theater's beautiful facade precedes the exhuberance of its luxurious interior. Shaped like a horse shoe, it can accomodate a little more than 500 spectators attending cultural or artistic events or the same number of participants in congresses and conventions.

Hours: from 09:30AM to 8:00 PM every day.

After your cultural activities in the theater there are many fun options awaiting you in the historic part of downtown Zacatecas.

Goitia Piazza

---

The impressive buildings that surround this square named after the distinguished Zacatecan painter, Francisco Goitia make it an ideal venue for the traditional Thursday afternoon concert offered by the state of Zacatecas Symphonic Band.

Don't miss the traditional concert of the State Symphonic Band every Thursday afternoon.

Alameda Trinidad García de la Cadena

---

Building begn in 1831 to make it a family and social gathering place for the people of Zacatecas. Today it frames a bohemian neighborhood of sorts with its cozy bars, restaurantes and cafés. It's most recent remodeling brought "Cuando Muere la Tarde" a spectacular glass sculpture by maestro Manuel Felguérez, which together with its the lush vegetation and food and drink offering make Alameda Trinidad García de la Cadena an ideal place to explore on foot.

A can't-miss stroll to enjoy with your parter or family. You're bound to find something fun to do.

Conquistadores Fountain

---

Intended as a tribute to the city on its 400th anniversary, Zacatecan craftsmen carefully chiseled the quarry on all four sides to show the names and coats of arms of the people who claimed the land for the King of Spain on the 8th of September 1546. The site represents great photo opportunity and chance to cast a lucky coin into the water.

A great place for a photo memento

Sierra de Álica (Gral. Enrique Estrada) Park

---

This amazingly beautiful place originated in the 1950's as a recreational area for the families of Zacatecas. The park is surrounded by extraordinary attractions like the aqueduct, the old bullring, Francisco Goitia Museum and the Church of Fátima, among others. Today it also serves as a stage for concerts and various shows during city festivals and celebrations.

Come for a great afternoon walk.

Los Faroles Fountain

---

Don Federico Sescosse designed the fountain in 1958 seeking a certain similarity to the fountain in the Virgen de los Reyes square next the the cathedral of Seville, Spain. Los Faroles has since become a symbol of the city of Zacatecas.

An icon and ideal spot for a photo

García Piazza

---

The oldest (and still extant) square of the city has endowed it with many traditions such as the popular street fairs during Holy Week. Plazuela de García also has a tasty offering of local food.

A great meeting place to share a typical Zacatecan dinner

Plazuela 450

---

The square was created in 1996 to commemorate the 450th Anniversary of the founding of the city of Zacatecas. It is located in front of Manuel Felguérez Museum. A wonderful way to visit Plazuela 450 is attending a traditional callejoneada, which is a stroll along the narrow streets in the company of a traditional music group that not only plays and sings for the people who can dance or sing along, but also tells them stories and legends about the place. The square ends in a small alley called Alcaicería de Gómez, because like Spanish alcaicerías it specialized in wholesale silk and fabric trade. At night the alley was closed to traffic.

Meet people and dance to the tune of a traditional tambora band.

Acrópolis

---

A place imbued with history, tradition and culture, the Acropolis is the place to enjoy excellent local cuisine—the offering for breakfast is particularly noteworthy. In addition to distinctly Zacatecan dishes, however, the Acropolis includes a Syrian restaurant, the flavors of which have been preserved by the same family for over 70 years.

Breakfast in this traditional café is a must during your visit to Zacatecas. It is an ideal place to start on your trip to the Cathedral.

Ciudadela del Arte Cultural Center

---

Built in 1806, the old Casa de Ensaye (where ore was tested for mineral content) currently houses the Manuel M. Ponce Museum. On display are personal effects and musical paraphernalia of this outstanding Mexican composer, a native of Zacatecas, known for pieces such as La Valentina and Estrellita. The Ciudadela also has a very interesting film offering and you will certainly find something good to watch in its peculiar projection rooms. Photography also has its place here in the Pedro Valtierra photographic library, with its temporary and permanent exhibits. Also on display is a collection of objects belonging artist and singer Antonio Aguilar, a native of Villanueva, Zacatecas known as the Charro de México.

Enjoy art exhibitions, an international film festival and other cultural events here.
‹
›
---