Unique

sights you can't miss!

Zacatecas boasts a varied and significant range of festivities that include a wide array of magnificent internationally recognized cultural events. There are programs all year long, but galas are held during major festivals such as the Zacatecas Cultural Festival (Holy Week and Easter Week); the International Folklore Festival (held in July); the traditional Morismas de Bracho (last week of August); the Great Zacatecas National Fair (first two weeks of September) and the International Street Theater Festival (third week of Ocober).

Additional celebrations held in the environs of the city and other places in the State complement the festivities mentioned above, but every one has its own features and long-standing tradition.
---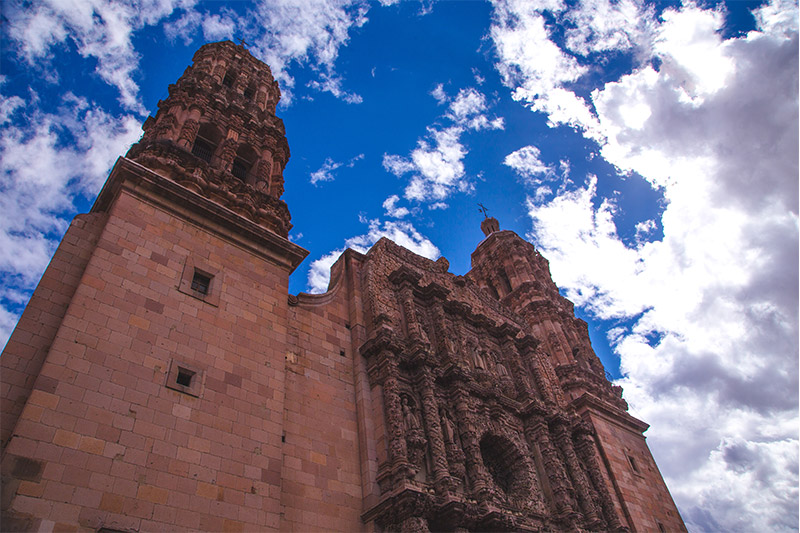 Cathedral
This exhuberant barroque masterpiece of 18th century New Spain consists in three naves and three facades. The main one is truly outstanding. Its central altarpiece covered in 24-karat gold leaf by Javier Marín was inaugurated in 2010.

Hours: from 07:00 AM to 1:00 PM and from 5:00 PM to 8:30 PM (Daily)

No visit to Zacatecas is complete without a trip to this impressive building.
---
---
---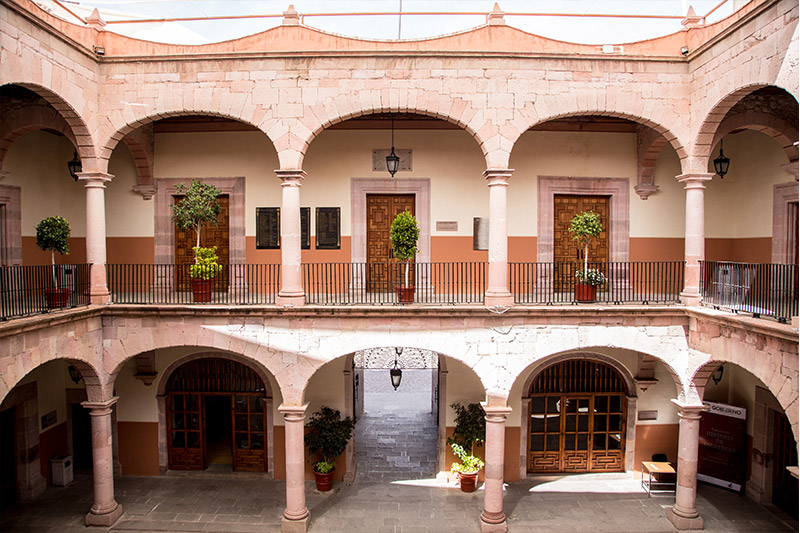 Government Palace Cultural Center
This 18th century building was once occupied by viceroyalty nobles in colonial Zacatecas. It became the seat of the state executive branch of government in 1834, and in 2014, a venue for art and culture. Interesting passages in Zacatecan history are depicted on the staircase mural by local artist Antonio Pintor. Hours: from 08:30 AM to 8:00 PM (daily).

Tourist information module here.

Hours: Monday-Saturday from 9:00 AM to 7:00 PM and Sundays from 9:00 AM to 6:00 PM
---
---
---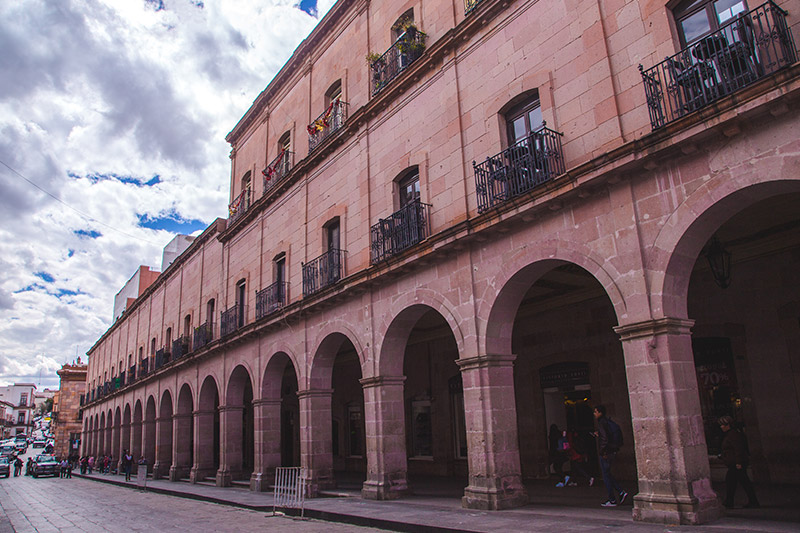 Rosales Arcade
Construction of Portal de Rosales began in 1827 on the former site of San Agustín square. It was built as a tribute to Víctor Rosales (a distinguished Zacatecan military figure of the war of independance). Today the Arcade has become a meeting place for university students wo enjoy its variety of domestic and international fast-food and desert chains.

During your stay in Zacatecas, you will more likely than not come across a book, local candy and handcraft exhibition.
---
---
---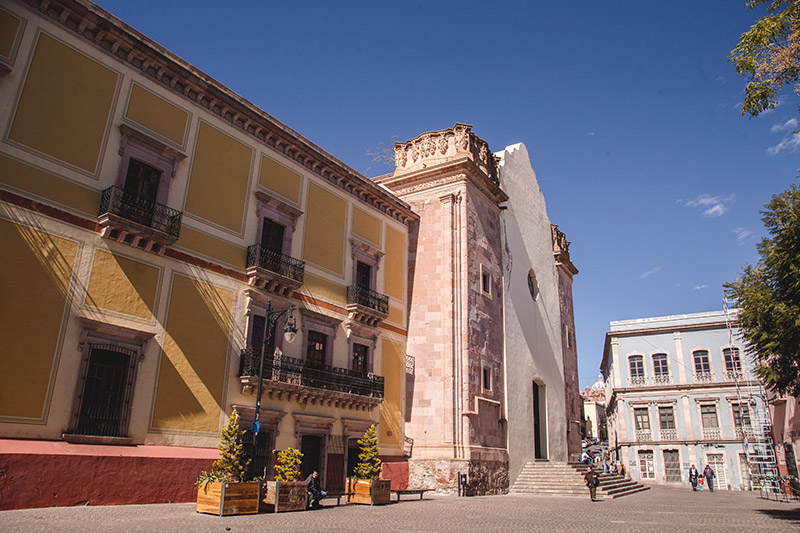 Miguel Auza Piazza
Surrounded by majestic architecture such as the former San Agustin church, the Bishopric and old mansions adapted into shops offering local handcrafts, Plazuela Miguel Auza was inaugurated in 1908. Today it welcomes visitors with delightful restaurants, bars and sidewalk cafés.

Enjoy an evening of delicious food and great coffee in a venue that hosts various cultural events during festivals.
---
---
---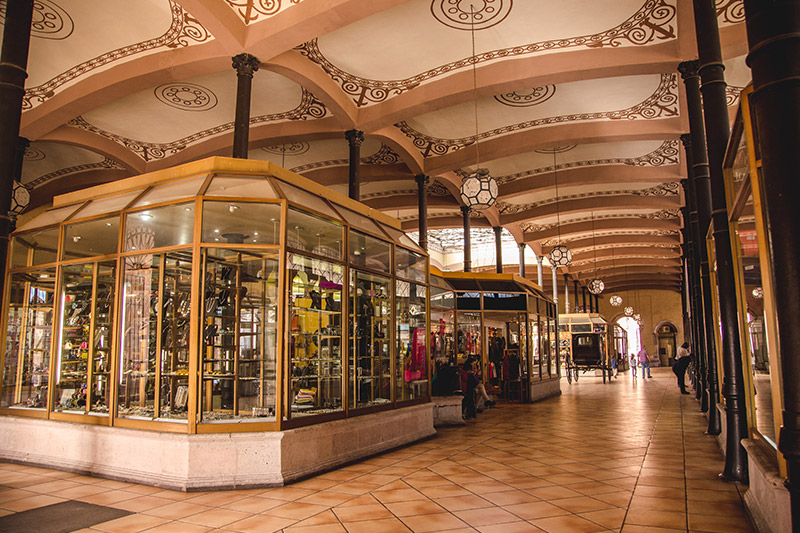 González Ortega Market
The site once served as the main square of the city in colonial days. In 1889, however, a three storey market was built there instead. A fire destroyed it in 1901, so it was rebuilt and remains much the same today. The two storey building ceased being a public market in 1982, when it was transformed into a shopping mall. Today many shops have been taken over by excellent, traditional restaurants, bars and souvenir shops.

Come buy a good bottle of wine, silver jewlery and Mexican style charrería (rodeo) accessories.
---
---
---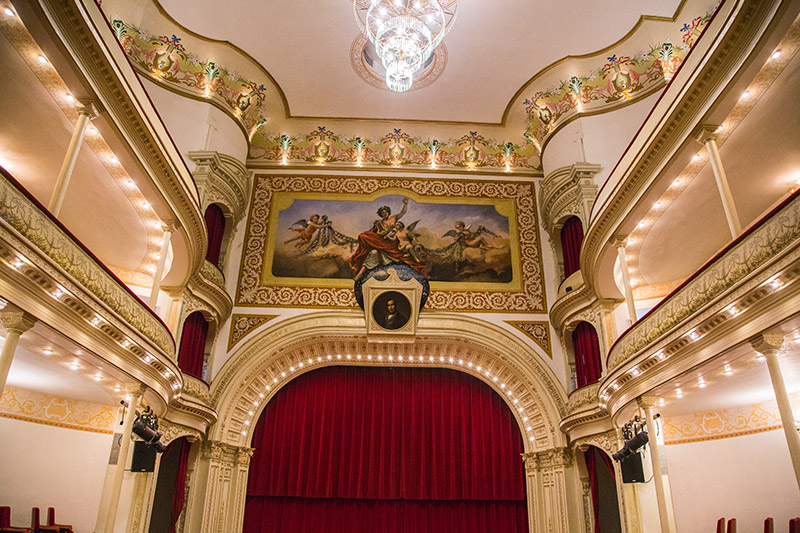 Calderón Theater
This is one of the most exquisite buildings in the city—a textbook example of the architecture created during the 30-year presidency of Porfirio Díaz known as the Porfiriato. Inaugurated in 1897, the theater's beautiful facade precedes the exhuberance of its luxurious interior. Shaped like a horse shoe, it can accomodate a little more than 500 spectators attending cultural or artistic events or the same number of participants in congresses and conventions.

Hours: from 09:30AM to 8:00 PM every day.

After your cultural activities in the theater there are many fun options awaiting you in the historic part of downtown Zacatecas.
---
---
---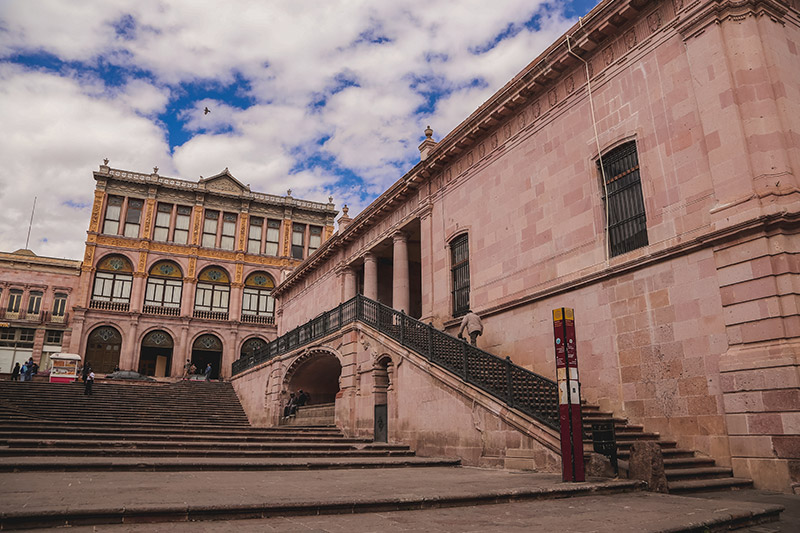 Goitia Piazza
The impressive buildings that surround this square named after the distinguished Zacatecan painter, Francisco Goitia make it an ideal venue for the traditional Thursday afternoon concert offered by the state of Zacatecas Symphonic Band.

Don't miss the traditional concert of the State Symphonic Band every Thursday afternoon.
---
---
---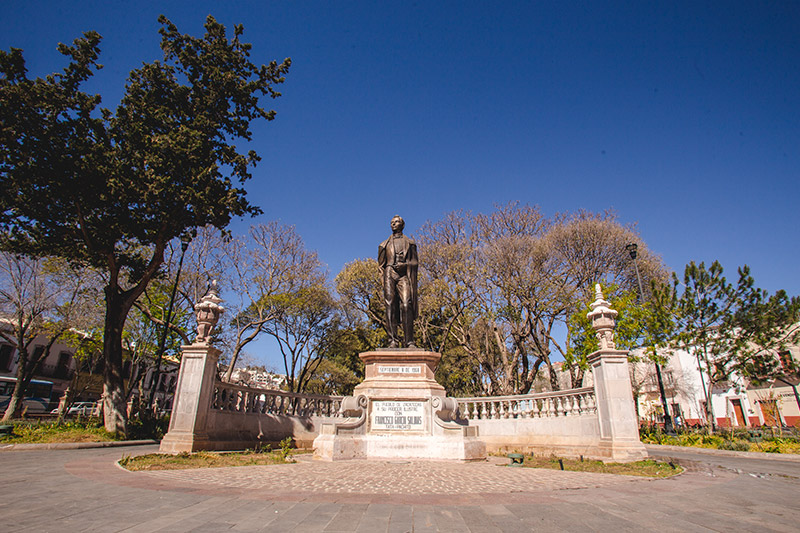 Alameda Trinidad García de la Cadena
Building begn in 1831 to make it a family and social gathering place for the people of Zacatecas. Today it frames a bohemian neighborhood of sorts with its cozy bars, restaurantes and cafés. It's most recent remodeling brought "Cuando Muere la Tarde" a spectacular glass sculpture by maestro Manuel Felguérez, which together with its the lush vegetation and food and drink offering make Alameda Trinidad García de la Cadena an ideal place to explore on foot.

A can't-miss stroll to enjoy with your parter or family. You're bound to find something fun to do.
---
---
---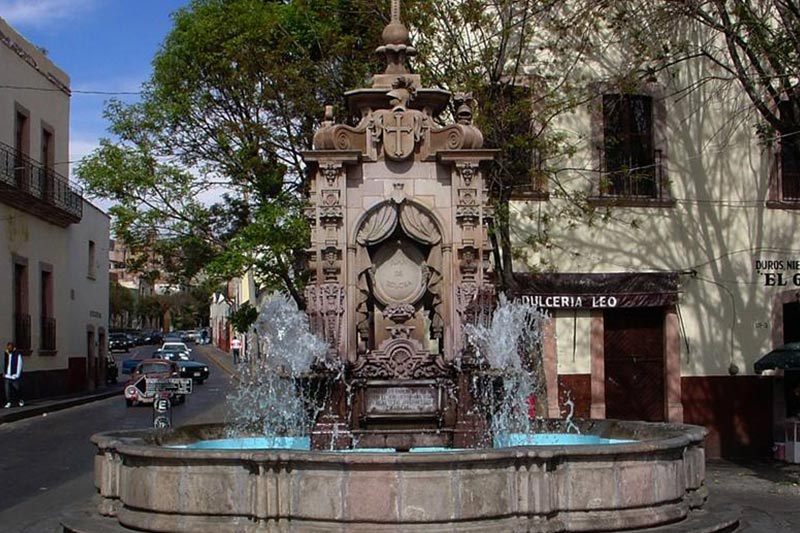 Conquistadores Fountain
Intended as a tribute to the city on its 400th anniversary, Zacatecan craftsmen carefully chiseled the quarry on all four sides to show the names and coats of arms of the people who claimed the land for the King of Spain on the 8th of September 1546. The site represents great photo opportunity and chance to cast a lucky coin into the water.

A great place for a photo memento
---
---
---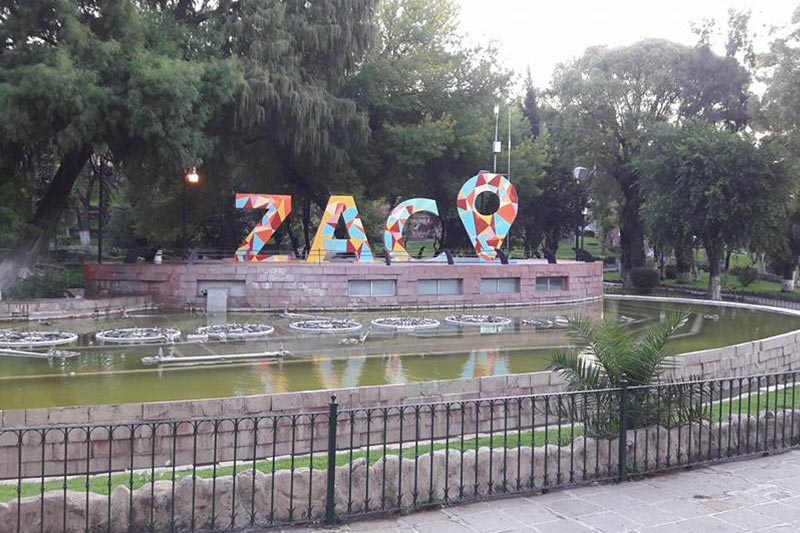 Sierra de Álica (Gral. Enrique Estrada) Park
This amazingly beautiful place originated in the 1950's as a recreational area for the families of Zacatecas. The park is surrounded by extraordinary attractions like the aqueduct, the old bullring, Francisco Goitia Museum and the Church of Fátima, among others. Today it also serves as a stage for concerts and various shows during city festivals and celebrations.

Come for a great afternoon walk.
---
---
---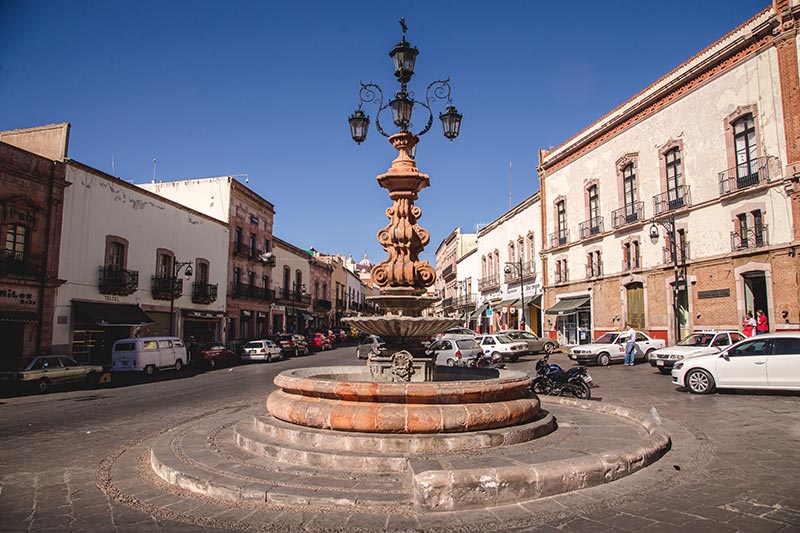 Los Faroles Fountain
Don Federico Sescosse designed the fountain in 1958 seeking a certain similarity to the fountain in the Virgen de los Reyes square next the the cathedral of Seville, Spain. Los Faroles has since become a symbol of the city of Zacatecas.

An icon and ideal spot for a photo
---
---
---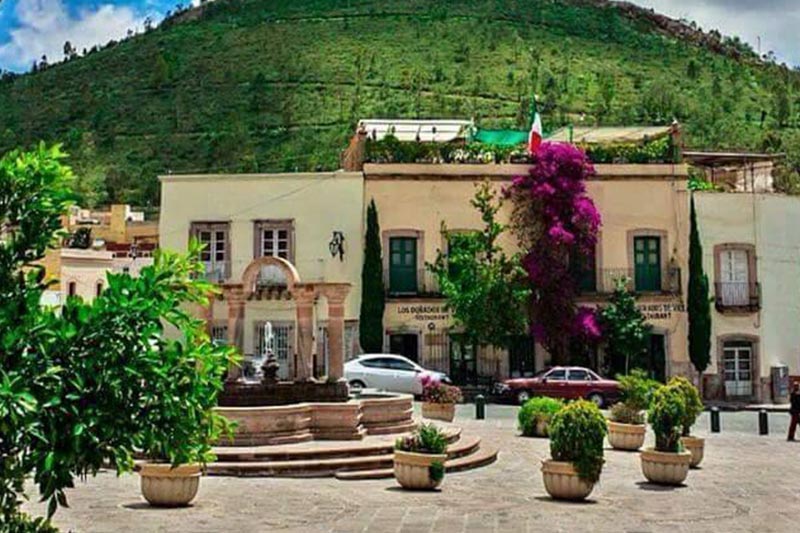 García Piazza
The oldest (and still extant) square of the city has endowed it with many traditions such as the popular street fairs during Holy Week. Plazuela de García also has a tasty offering of local food.

A great meeting place to share a typical Zacatecan dinner
---
---
---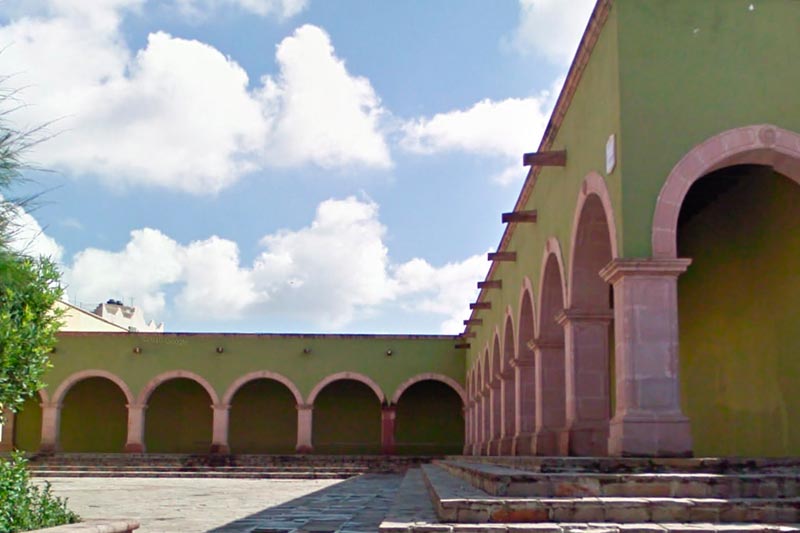 Plazuela 450
The square was created in 1996 to commemorate the 450th Anniversary of the founding of the city of Zacatecas. It is located in front of Manuel Felguérez Museum. A wonderful way to visit Plazuela 450 is attending a traditional callejoneada, which is a stroll along the narrow streets in the company of a traditional music group that not only plays and sings for the people who can dance or sing along, but also tells them stories and legends about the place. The square ends in a small alley called Alcaicería de Gómez, because like Spanish alcaicerías it specialized in wholesale silk and fabric trade. At night the alley was closed to traffic.

Meet people and dance to the tune of a traditional tambora band.
---
---
---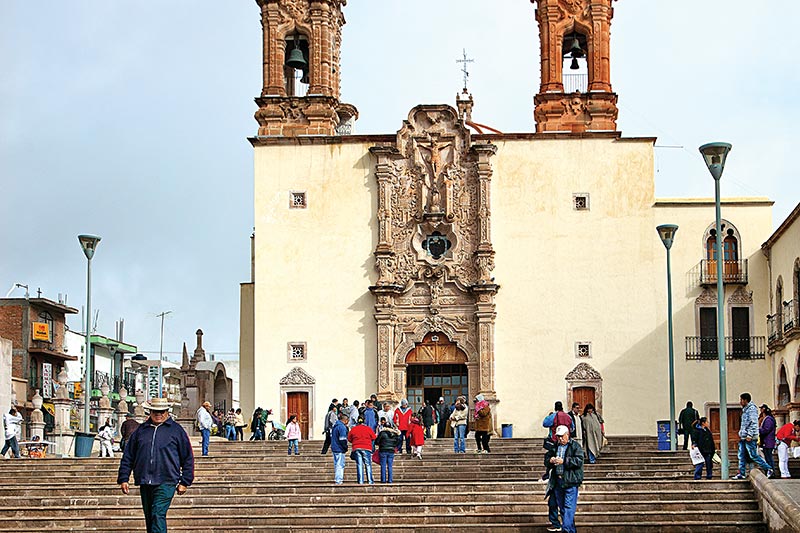 Holy Infant of Atocha
The people of neighboring Fresnillo believe themselves to be special and will take any chance they get to say so. The Church of the Holy Infant of Atocha is a part of their particular culture and traditions. Although the church itself is in Plateros, 20 minutes away from Fresnillo, for locals a visit to the "chaparrito" (little guy) is practically mandatory.

Visit one of the most popular sanctuaries in Mexico. 20 minutes away from the city of Fresnillo
---
---
---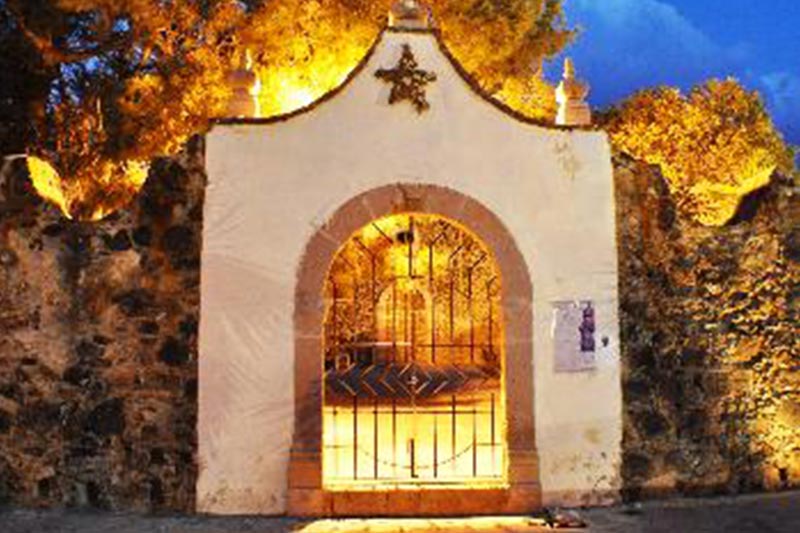 Mexicapan Chapel
Built in 1570, Mexicapan is considered the only chapel for the indigineous peoples that is still standing. Originally Our Lady of the Assumption was revered here, although some say, it was actually Our Lady of Los Remedios. Today it is the home of Our Lady of la Candelaria and old Holy Week traditions.
---
---
---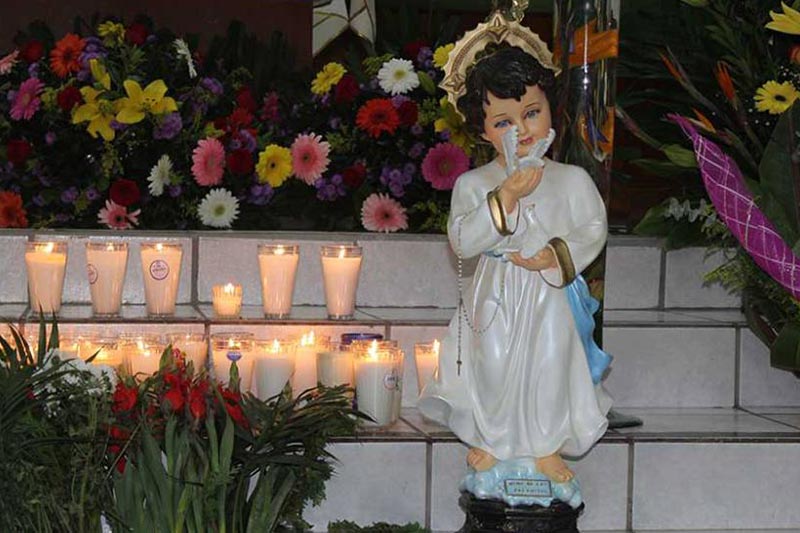 Santo Niño de las Palomitas
This devotion to the infant Jesus was introduced into Mexico by Spanish Friar Clemente de San José in the early 20th century. It took root in Zacatecas after the miraculous healing of Doña Catalina Neri de Villalobos, who lay sick when she recieved a medallion with the image of the Infant. She put her trust in the Infant Jesus and soon became well, so she spread this belief among family, friends and neighbors of what was then known as Don Carlos' Ranch. The image was later taken to Tacoaleche where it remains and is visited by thousands of pilgrims each year.

Visit the Sanctuary. It's less than 20 minutes away from the Pueblo Mágico of Guadalupe
---
---
---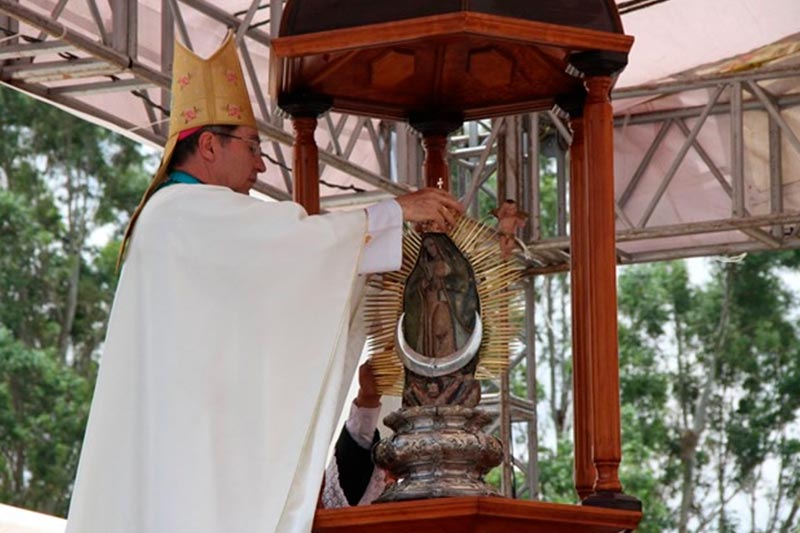 la Virgen del Agostadero
Cuenta la tradición oral del hoy municipio de Villa García que el 15 de junio de 1715 mientras labraban la tierra un grupo de trabajadores de la Hacienda del Agostadero, encontraron que su arado se vio trabado por una raíz de encino, al tratar de retirar el obstáculo encontraron perfectamente grabada en la madera de la raíz una imagen de la Virgen de Guadalupe, a partir de ese momento surgió una devoción que ha trascendido las fronteras estatales y que ha revestido de otras historias y tradiciones como la que aseguran los habitantes de Villa García que la imagen fue decorada (en 1737) por ángeles que tomaron la forma de viejecitos indígenas ya que nunca más volvieron a ser vistos en la zona. En 2011 de forma fortuita se encuentra un documento de la Arquidiócesis de Guadalajara y datado de 1745 en el que sustentan los hechos que oralmente son de dominio popular para los habitantes de esta región que hoy se precia de ostentar la segunda aparición de la Virgen de Guadalupe.
---
---
---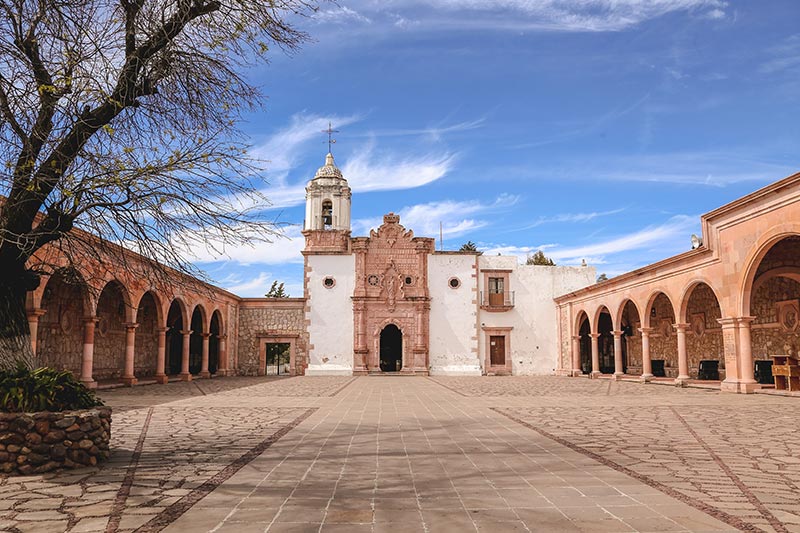 Church of Our Lady del Patrocinio
The first hermit devoted to Our Lady was built here in 1548, but with time and neglect the hermit fell to the ground. In 1728 a new chapel was concluded with an imagef revered there to this day.

You simply cannot miss a visit during your trip to La Bufa Hill. This sanctuary welcomes brotherhoods and devotees of Our Lady del Patrocinio.
---
---
---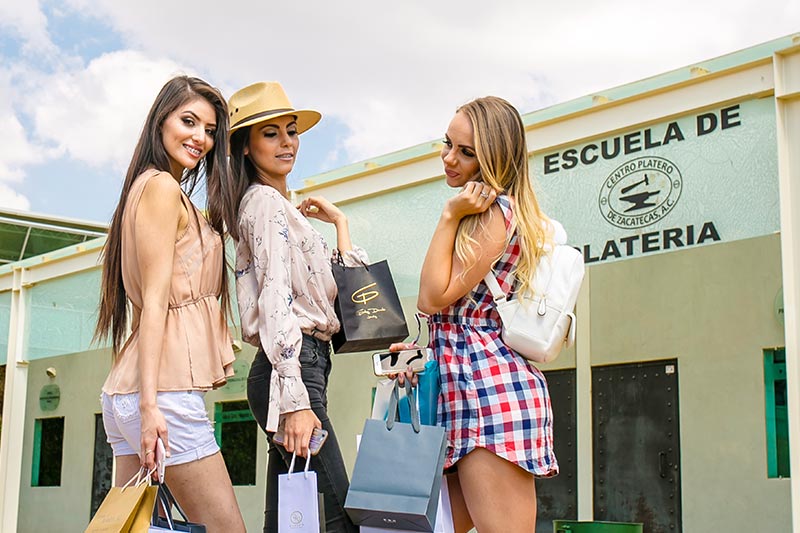 The Zacatecas Silver Center
Less than 8 kilometers away from downtown Zacatecas, in Guadalupe, the Silver Center welcomes its visitors in what used to be the Bernárdez Hacienda (originally founded in 1575). In 1706 Spanish infantry captain Ignacio Bernárdez consolidated it as a metal producing facility. Years later ownership of the property went to Joseph Rivera Bernárdez, Earl of Santiago de la Laguna and the first historian of Zacatecas. Today the hacienda contains 11 silver shops where you can find exclusive pieces at unbeatable prices. It also houses a school where you see how silver jewelry is made and additionally serves as a venue for congresses and other events. Keep your camera ready because the historic Silver Center is full of interesting shots.

This is the go-to place to buy unique pieces of Zacatecan silver for souveniers and gifts
---
---
---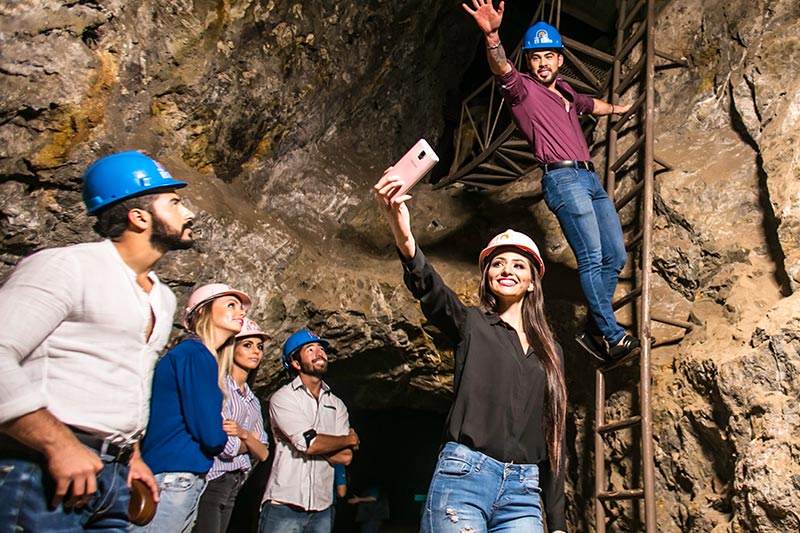 El Edén Mine
The mine became active in 1586 and remained so for four centuries until 1960. It is said that despite its still vast mineral deposits, mine exploitation had to be stopped due to the expansion of the city. In 1975 it was opened to the public as a tourist attraction. Now you can also enjoy the fun, dynamic and very interesting experience of a journey underground where you will also find a rock and mineral museum. On your way out take a look at the rock and silver shops. If you enjoy dancing take the opportunity to do it in a one-of-a-kind Discoteque-Bar inside a mine.

When in Zacatecas a visit to El Edén is a must!
---
---
---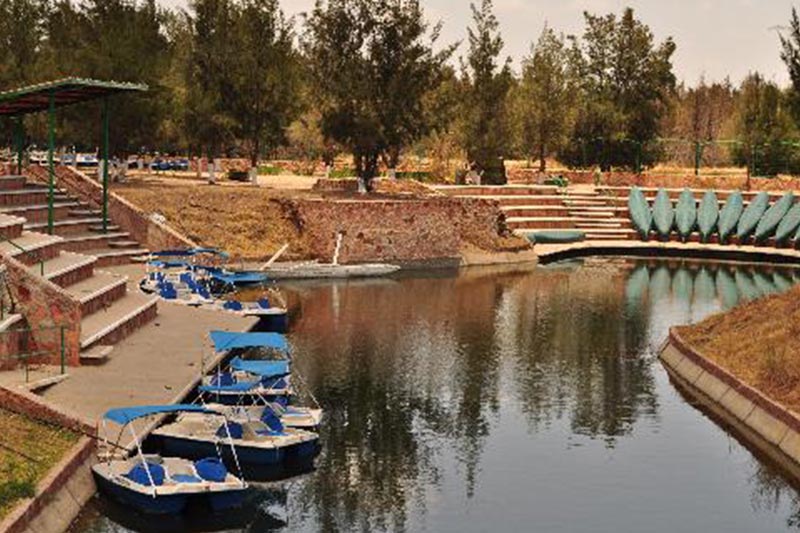 Los Jales Ecologic Park in Fresnillo
This park was adapted from a former tailings dam to make a family attraction, where you can walk, hike, ride the zipline or paddle the lake on a kayak.

Visit Fresnillo and enjoy a weekend at the park.
---
---
---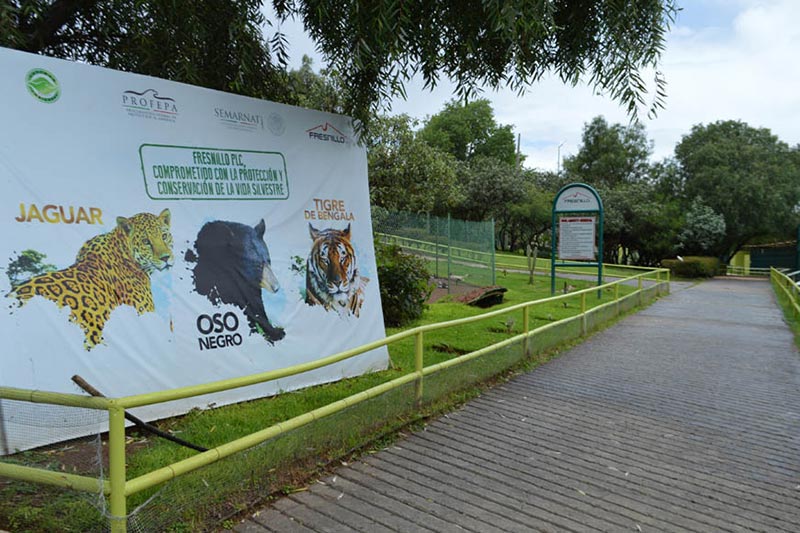 Proaño Tourist Mine in Fresnillo)
This tourist mine is in the vicinity of iconic Fresnillo mine, currently the largest silver producer in the world. The mine open to tourists includes tunnels, hanging bridges a place to enjoy the view and even a zoo. The mine opens its doors to visitors on Saturdays and Sundays and admission is free.

A place for weekend recreation
---
---
---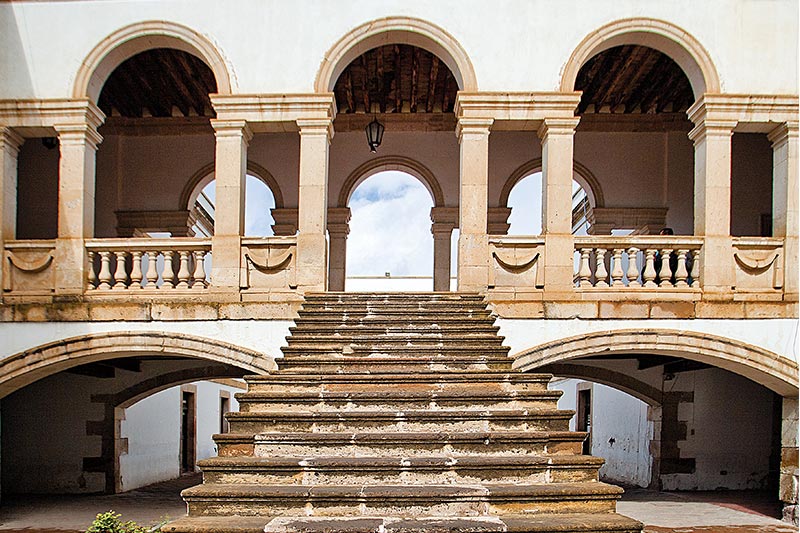 Mining Museum (Fresnillo)
The museum has six rooms displaying equipment, machinery and the history of mining in Fresnillo. It's interesting to see how some of the larger machines were adapted to fit inside the museum. Another highlight is the model of what was once the largest metal production hacienda in the world "Nuevo Fresnillo". The museum, just across the street from the tourist mine, also has a library dedicated to mining.

Learn about Fresnillo's mining wealth.
---
---
---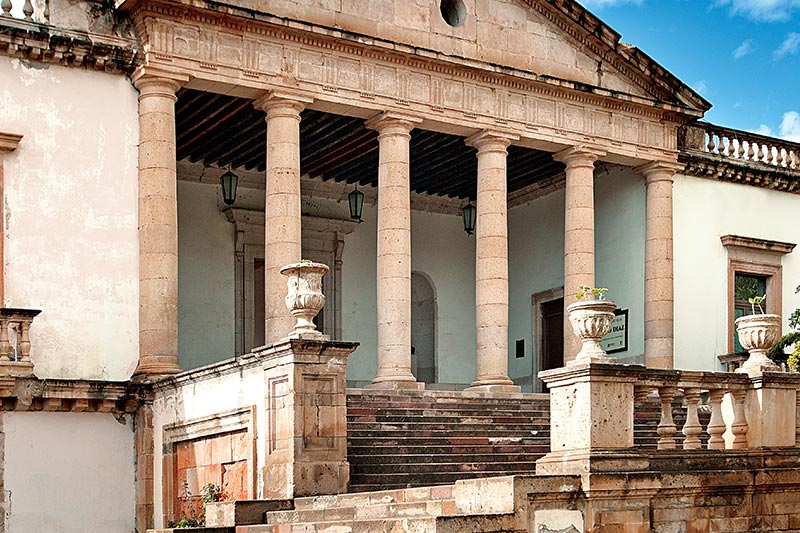 "José González Echeverría" Agora(Fresnillo)
Built in 1852 by a decree from president Antonio López de Santa Ana, the Agora has been a mining school, hospice, military quarters and even bullring. Since 9 September 1980 and to this day the site is a museum displaying works of art, photographs and antiques.

Another way to get to know Fresnillo.
---
---
---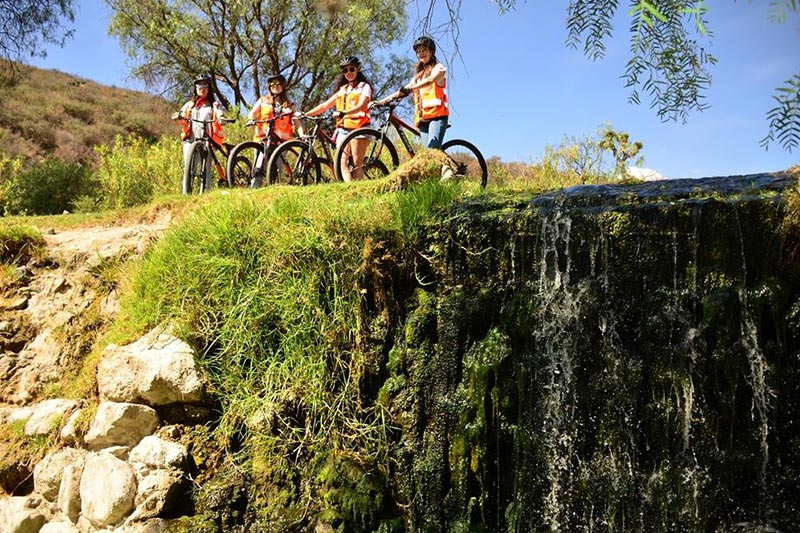 Vetagrande
Only 15 minutes away from downtown Zacatecas, this small mining town opens its narrow streets, traditional cemetary and churches to visitors who will enjoy walking through them and recording images to share on Facebook and Instagram. Don't miss hearing the tales about the witches of the place. Nearby San Bernabé mine is located between Vetagrande and La Bufa Hill, offering the chance to enjoy a trip there on an ATV.

The adventure of walking through a real mining town only minutes away from the capital city.
---
---
---
Conos de Santa Mónica.
The cones were built around 1840 to store grains like sorghum, corn and wheat produced in Hacienda de San Juan de Trancoso. These 22 conical structures continued to be used as silos until the early 20th century when they were abandoned due to the unrest in the country. The site earned relevance when Zacatecan painter Francisco Goitia included the silos in his artworks and took residence in one of the cones, which have since been used as a hotel, restaurant and now as an incredible venue for weddings and other celebrations.

A different kind of place to visit the past and preserve the memory of it in a photograph. Just a few minutes from Guadalupe.
---
---
---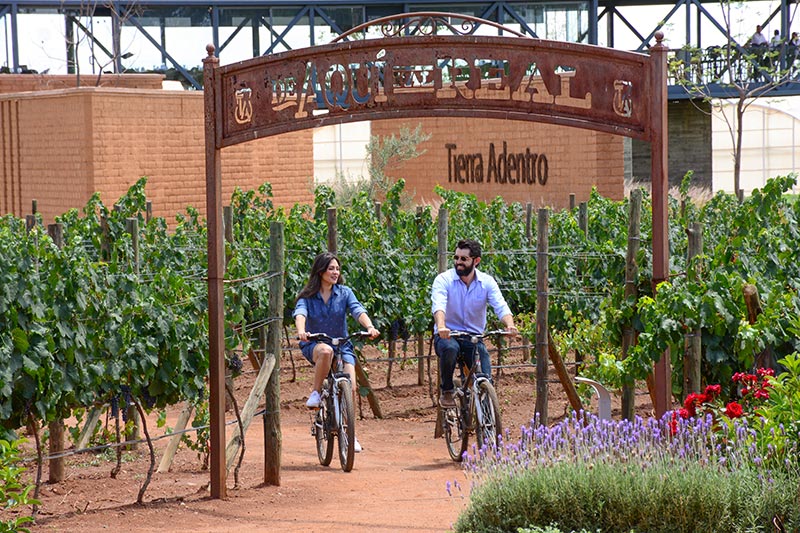 Charming Vineyards
While in Zacatecas take time out to visit one of these enchanting niches where you can enjoy good food and drink in quiet, pleasant company, while you learn about wine culture in central and northern Mexico. A walk in the vinyards will produce indelible memories. Campo Real Vinyard that produces the highly regarded Tierra Adentro label is just 25 minutes away from the city of Zacatecas. Another option is the Luévano Ruiz vinyard that provides a very different style and offering that is also full of charm.

If you'd like to visit Campo Real, ask about the tours at the "Tierra Adentro" point of sale at the González Ortega market.
---
---
---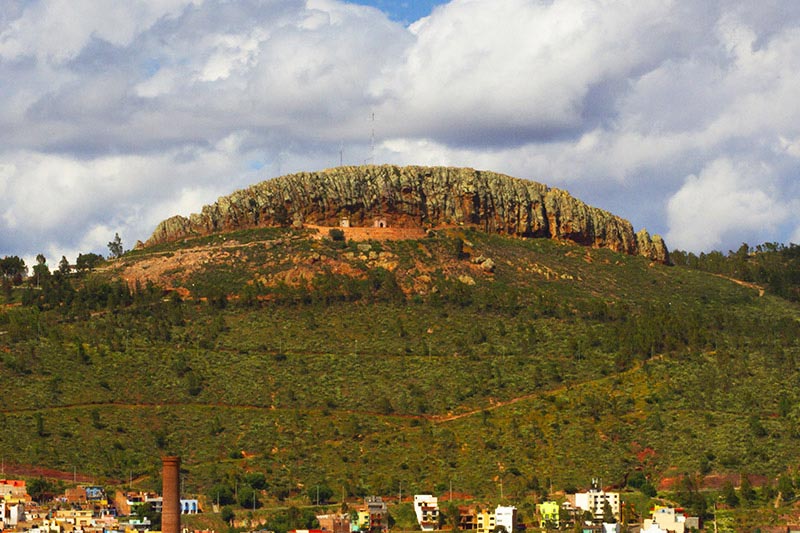 La Bufa
Historic, heroic, dazzling and iconic LaBufa Hill is easily accessible and offers the best view of the entire urban landscape. The hill's unmistakable shape has made it transcend as the symbol of Zacatecas, its wealth of activities and sight-seeing opportunities. It constitutes a main attraction in Zacatecas that can't be missed.

Visit this must-see in Zacatecas by cable car.
---
---
---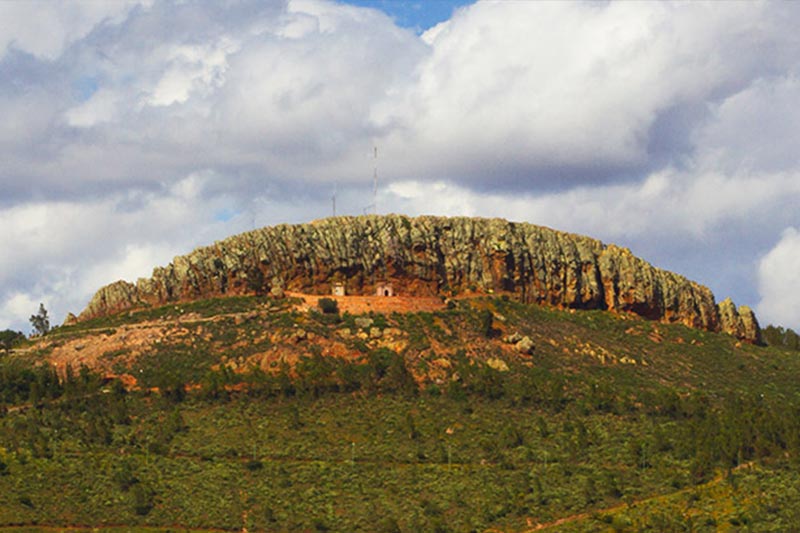 La Bufa Crest
Once you're at La Bufa Hill start your visit with a hike to the crest of the hill to gaze at the view from the highest point in the city of Zacatecas. This will take you 2610 meters above sea level. The crest is a rocky structure that owes its greenish hue to moss and lichen.
---
---
---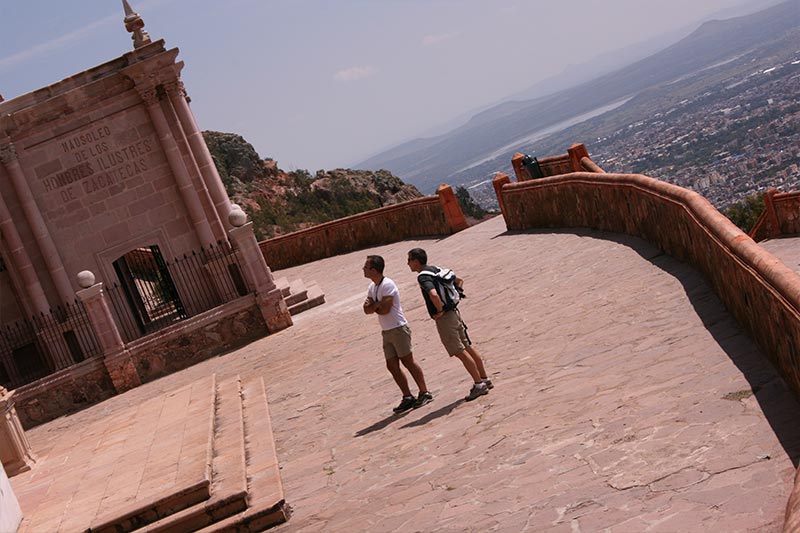 The Mausoleum
Originalmente built in La Purísima cemetary, the Mausoleum was moved to its current site in 1966. Genaro Codina, Francisco García Salinas and Pánfilo Natera are a few of the distinguished citizens who rest there.

Located on La Bufa Hill
---
---
---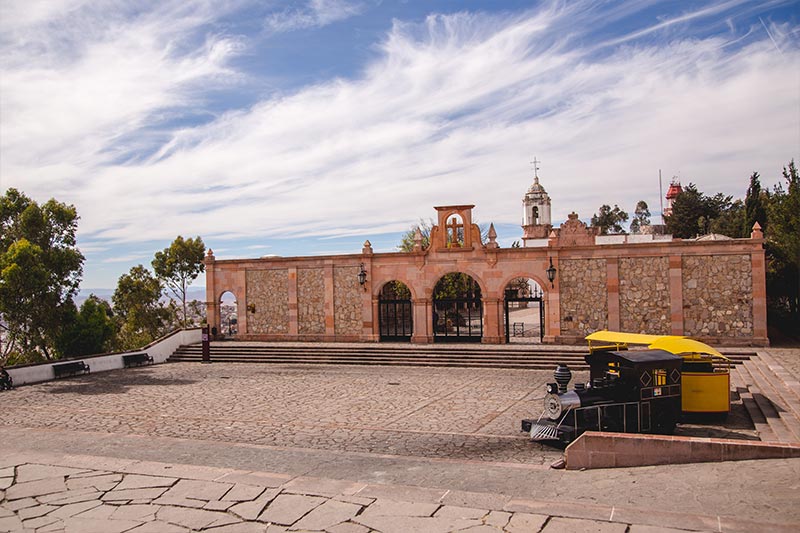 Explanade Commemorating the Revolution
After your visit to the crest, you'll be ready to dress up in revolutionary garb for a picture on the couple of sets available with crews at the ready to help you create your photo souvenier. You can tour the explanade on board a little train that will show you the most important sites on the hill and the city in general. If you prefer to walk, you can stop by four monuments adorning this Plaza de la Revolución: the figures of Pancho Villa, Felipe Ángeles and Pánfilo Natera in addition to the monument built to commemorate the centenial of the Battle of Zacatecas (1914-2014)

Take your picture next to the equestrian sculptures.
---
---
---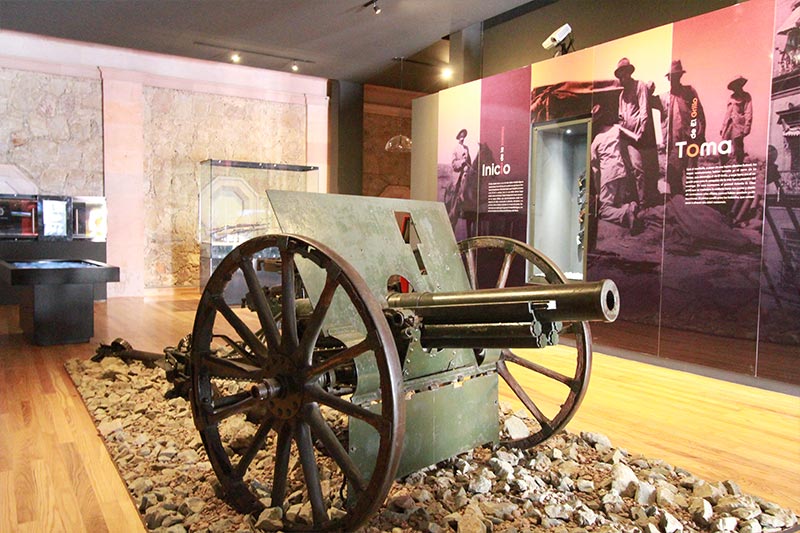 Museum – Battle of Zacatecas
During your visit to La Bufa Hill don't miss the museum specifically built in 1984 to honor the memory of the Battle of Zacatecas. Its fun and interactive museography focuses on the battle, one of the most decisive in the Mexican Revolution.

Learn about the important role of Zacatecas in the Mexican Revolution.
---
---
---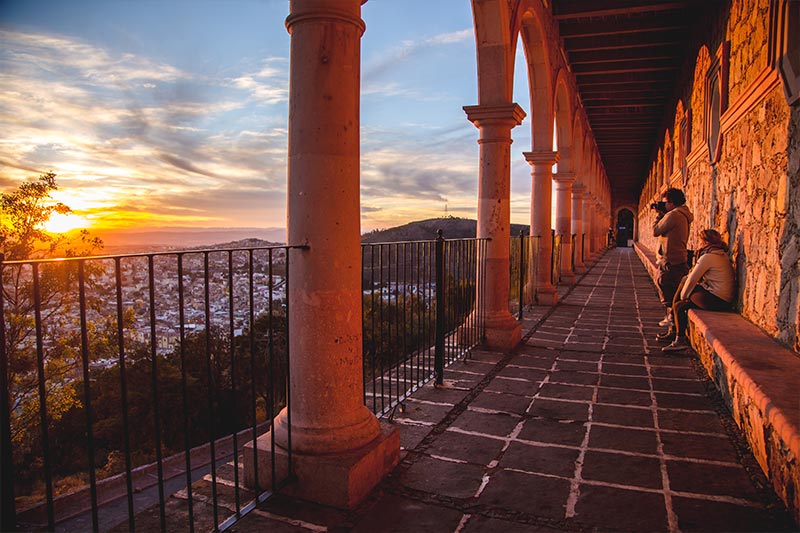 La Bufa Viewpoint
The exit on the lateral facade of the temple will take you directly to the scenic viewpoint for a breathtaking glimpse of the city. A great chance to take panoramic photos. On your way to the Camera Obscura, you'll encounter various Huichol craftsmen. Don't miss the chance to purchase one of their unique and colorful pieces.

Don't forget to take a panoramic photo of the city while on your visit to La Bufa Hill.
---
---
---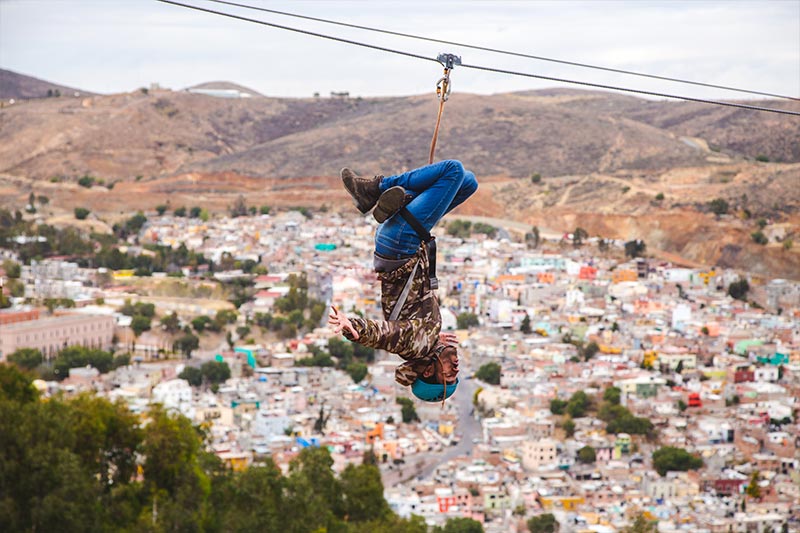 Zipline Tirolesa 840
If you're adventurous at heart, La Bufa Hill offers a fantastic zipline experience. 85 meters high, the zipline takes you along 840 meters in 2 sections; a great photo opportunity. Another adventure consists in traveling on an ATV to an old mining property next to the hill. The basic tour lasts a little over an hour. The operator Descubre Zacatecas, Moto Tours (on your GPS) is a 10 minute drive from La Bufa Hill. You can also ask them to pick you up at La Bufa.

During your visit to La Bufa don't miss riding the Tirolesa 840-Zipline
---
---
---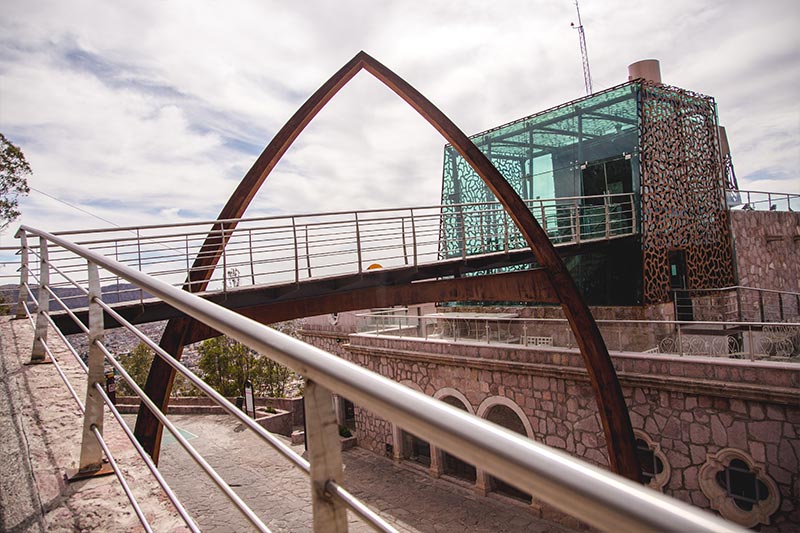 Camera Obscura
Take the staircase to the upper floor of the cable car station, cross the spectacular bridge and you will come to a curious device inspired by one of Leonardo Da Vinci's inventions: the camera obscura. Based on pure optics bereft of any video technology, the device provides an exceptional panoramic tour in real time of historic downtown Zacatecas. It's like looking through a giant periscope! Lucky you! Our camera obscura is one of the very few in the world. Only two to exist in America!

Give yourself the experience of an aerial tour of the city.
---
---
---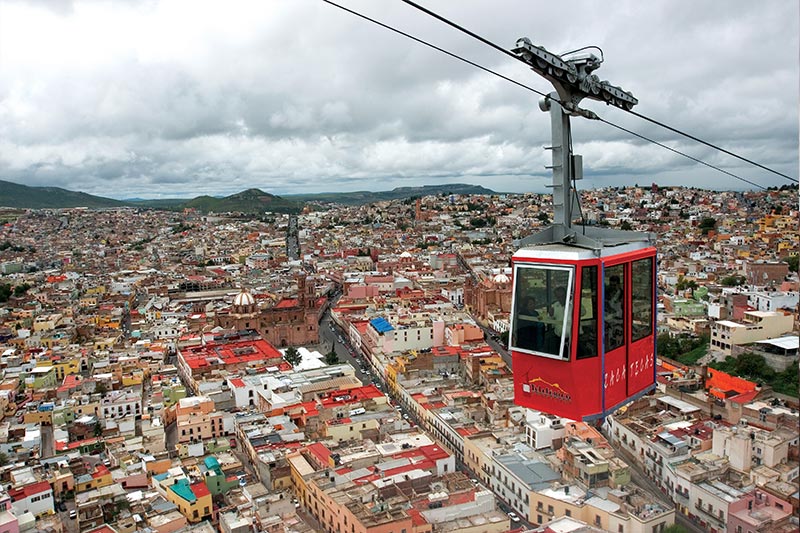 Cable Car
Since 1979 the cable car has been considered the first in Mexico. The cable car (Teleférico) in Zacatecas is an icon of the city and takes you on a 7 minute aerial tour of the city affording unparalleled views. You can't afford to miss it. Once you reach the other side, take the opportunity to visit El Edén mine with its renewed equipment and operations.

Take the cable car when you exit El Edén mine or at the station on La Bufa Hill.
---
---
---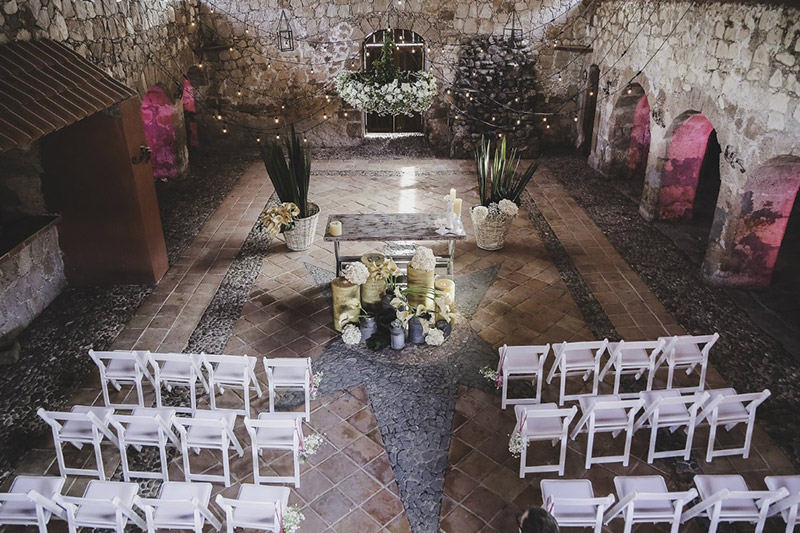 Hacienda la Encarnación
La Encarnación was built in 1596 to act as a jail and guard post for the Camino Real de Tierra Adentro (royal road inland). This official duty ceased almost 100 years later when the hacienda became an important livestock producer and took over vast extensions of land. By the end of these activities La Encarnación occupied one fourth of the entire Villanueva municipality. The property was held in turn by several families like the Ximénes de Cañas and later the Moncadas. Today the impressive hacienda welcomes guests in exquisitely appointed rooms, while weddings and other celebrations are held in its enchanting settings. La Encarnación is also a spa and resort visited in the summer by swarms of fireflies that delight its guests.

Get away from the city on a trip to the past in this magnificent hacienda.
---
---
---
Hacienda el Soyate
This hacienda in the Villanueva municipality used to be the home of Mexican traditional music and culture icon, Antonio Aguilar known as El charro de México (the Mexican charro). The property was featured in many of Aguilar's movies. Today the chapel is a mausoleum for Aguilar. It can be visited by appointment only with the guardian of the property.
---
---
---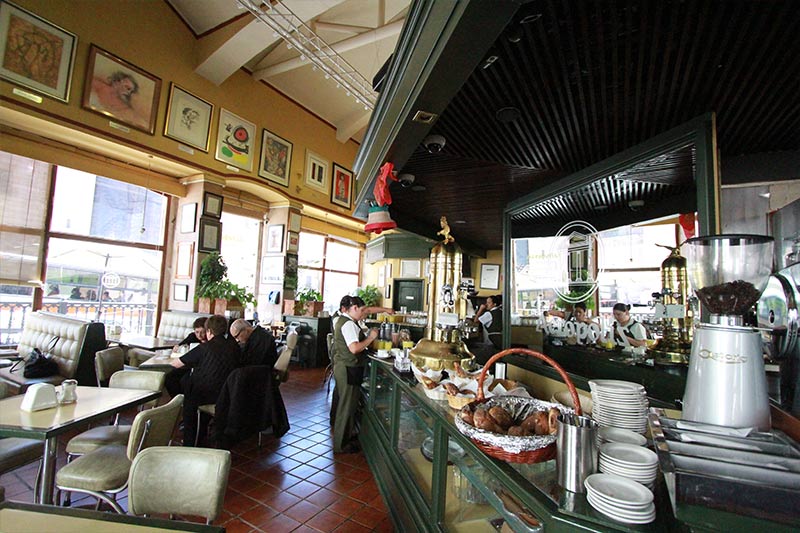 Acrópolis
A place imbued with history, tradition and culture, the Acropolis is the place to enjoy excellent local cuisine—the offering for breakfast is particularly noteworthy. In addition to distinctly Zacatecan dishes, however, the Acropolis includes a Syrian restaurant, the flavors of which have been preserved by the same family for over 70 years.

Breakfast in this traditional café is a must during your visit to Zacatecas. It is an ideal place to start on your trip to the Cathedral.
---
---
---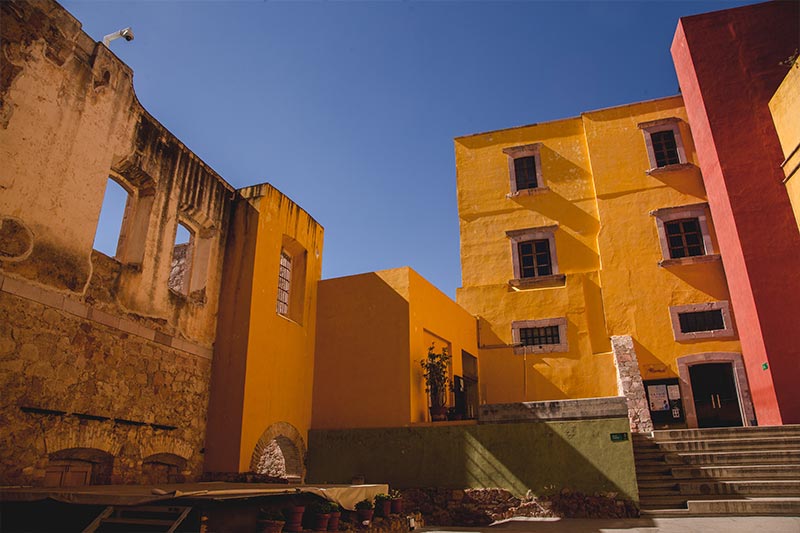 Ciudadela del Arte Cultural Center
Built in 1806, the old Casa de Ensaye (where ore was tested for mineral content) currently houses the Manuel M. Ponce Museum. On display are personal effects and musical paraphernalia of this outstanding Mexican composer, a native of Zacatecas, known for pieces such as La Valentina and Estrellita. The Ciudadela also has a very interesting film offering and you will certainly find something good to watch in its peculiar projection rooms. Photography also has its place here in the Pedro Valtierra photographic library, with its temporary and permanent exhibits. Also on display is a collection of objects belonging artist and singer Antonio Aguilar, a native of Villanueva, Zacatecas known as the Charro de México.

Enjoy art exhibitions, an international film festival and other cultural events here.
---
---