---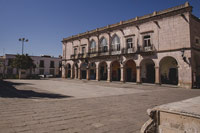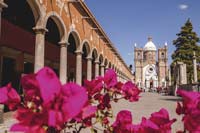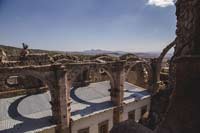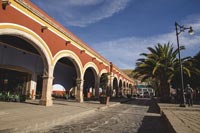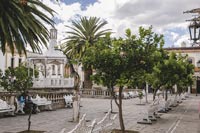 ---
Experiencia Mágica
6 hermosos rincones zacatecanos han recibido esta denominación cada uno con su sabor. Si de salir de la ciudad se trata, seguro Jerez con sus bandas de música y sus nieves; Sombrerete con sus templos y conventos, Pinos con su museo de arte sacro y su zona mezcalera; Teúl con su mezcal y zona arqueológica y Nochistlán con sus mariachis y jaraneros habrán de brindarte interesantes alternativas por descubrir y el más reciente Guadalupe con gran encanto virreinal y parte esencial del Camino Real de Tierra Adentro; reconocido por ser sede del festival barroco.
Asómbrate
Jerez y Zona Arqueológica La Quemada
Sombrerete con su sierra de órganos
Zona Arqueológica Altavista
Nochistlán y la zona Caxcán
El Teúl y su Zona Arqueológica
Pinos y el gran Tunal.
Guadalupe.
En esta experiencia encontrarás...
---
Lugares únicos por conocer en esta Experiencia:
Hacienda la Encarnación

---

La Encarnación was built in 1596 to act as a jail and guard post for the Camino Real de Tierra Adentro (royal road inland). This official duty ceased almost 100 years later when the hacienda became an important livestock producer and took over vast extensions of land. By the end of these activities La Encarnación occupied one fourth of the entire Villanueva municipality. The property was held in turn by several families like the Ximénes de Cañas and later the Moncadas. Today the impressive hacienda welcomes guests in exquisitely appointed rooms, while weddings and other celebrations are held in its enchanting settings. La Encarnación is also a spa and resort visited in the summer by swarms of fireflies that delight its guests.

Get away from the city on a trip to the past in this magnificent hacienda.

Hacienda el Soyate

---

This hacienda in the Villanueva municipality used to be the home of Mexican traditional music and culture icon, Antonio Aguilar known as El charro de México (the Mexican charro). The property was featured in many of Aguilar's movies. Today the chapel is a mausoleum for Aguilar. It can be visited by appointment only with the guardian of the property.
‹
›
---