---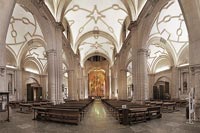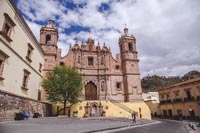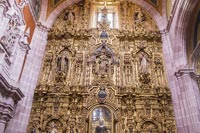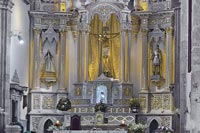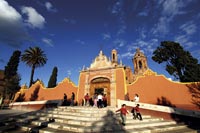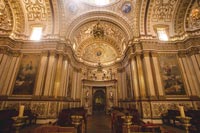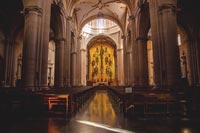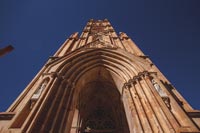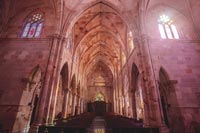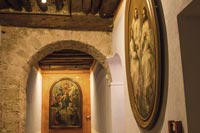 ---
Experiencia Espiritual
El fervor popular, la magnífica arquitectura y el arte sacro se mezclan en Zacatecas, brindando a sus visitantes la posibilidad de conocer hermosos templos donde la fe se vive a flor de piel.
Descubre
Zacatecas (Catedral, Convento de Guadalupe, Templo de Santo Domingo, Templo de Fátima)
Santuario del Santo Niño de Atocha en Plateros
Templo de San Judas Tadeo en Villanueva,
Virgen del Agostadero en Villa García
Santuario del Niño de las Palomitas en Tacoaleche.
---
Lugares únicos por conocer en esta Experiencia:
Holy Infant of Atocha

---

The people of neighboring Fresnillo believe themselves to be special and will take any chance they get to say so. The Church of the Holy Infant of Atocha is a part of their particular culture and traditions. Although the church itself is in Plateros, 20 minutes away from Fresnillo, for locals a visit to the "chaparrito" (little guy) is practically mandatory.

Visit one of the most popular sanctuaries in Mexico. 20 minutes away from the city of Fresnillo

Mexicapan Chapel

---

Built in 1570, Mexicapan is considered the only chapel for the indigineous peoples that is still standing. Originally Our Lady of the Assumption was revered here, although some say, it was actually Our Lady of Los Remedios. Today it is the home of Our Lady of la Candelaria and old Holy Week traditions.

Santo Niño de las Palomitas

---

This devotion to the infant Jesus was introduced into Mexico by Spanish Friar Clemente de San José in the early 20th century. It took root in Zacatecas after the miraculous healing of Doña Catalina Neri de Villalobos, who lay sick when she recieved a medallion with the image of the Infant. She put her trust in the Infant Jesus and soon became well, so she spread this belief among family, friends and neighbors of what was then known as Don Carlos' Ranch. The image was later taken to Tacoaleche where it remains and is visited by thousands of pilgrims each year.

Visit the Sanctuary. It's less than 20 minutes away from the Pueblo Mágico of Guadalupe

la Virgen del Agostadero

---

Cuenta la tradición oral del hoy municipio de Villa García que el 15 de junio de 1715 mientras labraban la tierra un grupo de trabajadores de la Hacienda del Agostadero, encontraron que su arado se vio trabado por una raíz de encino, al tratar de retirar el obstáculo encontraron perfectamente grabada en la madera de la raíz una imagen de la Virgen de Guadalupe, a partir de ese momento surgió una devoción que ha trascendido las fronteras estatales y que ha revestido de otras historias y tradiciones como la que aseguran los habitantes de Villa García que la imagen fue decorada (en 1737) por ángeles que tomaron la forma de viejecitos indígenas ya que nunca más volvieron a ser vistos en la zona. En 2011 de forma fortuita se encuentra un documento de la Arquidiócesis de Guadalajara y datado de 1745 en el que sustentan los hechos que oralmente son de dominio popular para los habitantes de esta región que hoy se precia de ostentar la segunda aparición de la Virgen de Guadalupe.

Church of Our Lady del Patrocinio

---

The first hermit devoted to Our Lady was built here in 1548, but with time and neglect the hermit fell to the ground. In 1728 a new chapel was concluded with an imagef revered there to this day.

You simply cannot miss a visit during your trip to La Bufa Hill. This sanctuary welcomes brotherhoods and devotees of Our Lady del Patrocinio.
‹
›
---