---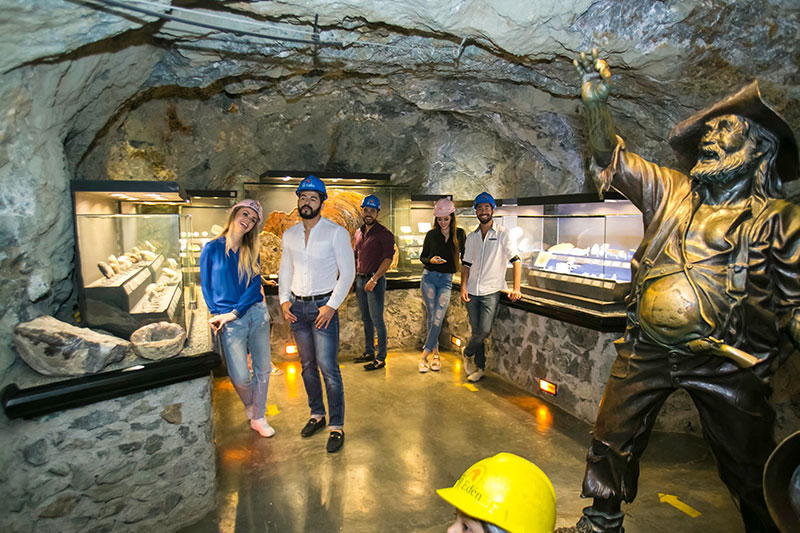 ---
Mina el Edén
Una vez en la Mina, comienza un espectáculo inolvidable, empezando por el Museo de las Rocas y Minerales, el más grande de Latinoamérica, en el que se puede admirar oro, plata e incluso "Kriptonita" en estado nativo, entre fósiles y otros minerales de todo el mundo.

Luego, un gracioso guía narra historias y leyendas mineras, al tiempo que conduce a los visitantes por túneles y galerías con filtraciones de agua y con la iluminación adecuada para sentirse inmerso en la atmósfera de quienes trabajaron ahí desde el siglo XVI hasta 1960.

El trabajo artístico y museográfico es deslumbrante en cada uno de los escenarios, muchos de ellos no exentos de vértigo.
---
These are the details or operators who manage the activity you are looking for:
Operador Mina El Edén
Teléfono:492 922 30 02

Costo:
---
Adulto $100.00
Estudiantes con credencial $80.00
Niños e INSEN $50.00.
---
---
Mina Club
Costo y Horario
Jueves y Viernes Bar $50.00 Cover.
Sábado $150.00 Temporada baja
Sábado $250.00 Temporada alta.
Dates:
Tour Operadors are accountable for the information shown here: dates, hours and costs. Everything is subject to change without prior notice.